Regular price
$28.00 USD
Sale price
$25.00 USD
Unit price
per
Sale
Sold out
Bottle Gourd Bodhi Seed and Cinnabar Mala Bracelet, Creamy White Wrap Mala Bracelet
Keywords: Bodhi Seed, Cinnabar Yoga Jewelry, Meditation Jewelry, Healing, Buddhism
This Buddhist bracelet represents strength and inner peace. It blend the Zen factors in fashionable styles - the Chinese tradition style "Bottle Gourd" (pronounced "hulu") emphasizes good luck and protection, while the creamy white Bodhi Seeds show the deeper connection to Buddhism. 

The length of the bracelet is about 36 cm (15''), it can be wrapped twice and fit nicely in your wrist.
Please be noted before you buy: Our Cinnabar is Non-toxic Grade A Synthetic Resin-based Cinnabar, which is jewelry industrial standard and required by law. Because natural cinnabar contains toxic mercury pigment, before it can be used in jewelry, it has to be processed using modern technology to replace the toxic pigment while retaining the bright and vivid "Chinese Red" color.


Size:
Bodhi Seed Beads diameter: 8 mm
Cinnabar and wood charms: vary from 5 mm to 25 mm 
Fits wrist circumference: 6 - 6.5 inch (15 - 16 cm) 


Materials:
Natural Bodhi Seeds, Cinnabar, Wood


Meaning and Stories:
-----Bodhi Seeds - embrace enlightenment from Buddha
In Buddhism, Buddha sat under the pipal tree and once he obtained enlightenment under their sacred branches it was then referred to as the "Bodhi" tree. Buddha means the "enlightened one" and BODHI means "enlightened." 
As an "enlightened" seed many practitioners use these malas for their essence and inherent teachings within each seed.

-----Cinnabar - boosts energy and maximizes your potential
A powerful transformation crystal. Cinnabar assists you with developing intuition; it increases your mental alertness, ingenuity and creativity. It clears and aligns the blocks that occur in the energy body.
(In the modern jewelry industry, the toxic mercury pigment is replaced by a resin-based polymer that approximates the appearance of the Vermillion color -- Typically known as "Chinese Red")

-----Bottle Gourd - symbols of good luck in Chinese
In Chinese, gourd pronounce "Hulu"(葫芦),would sound similar to "福禄" which means "happiness and fortune". From its shape, gourd looks like the number "8" -- also in Chinese culture, number 8 is a lucky number which pronounces and means "fortune". So the bottle gourd has the double meaning of good luck and protection, which is one of the favorite symbols in Chinese culture.
Share
View full details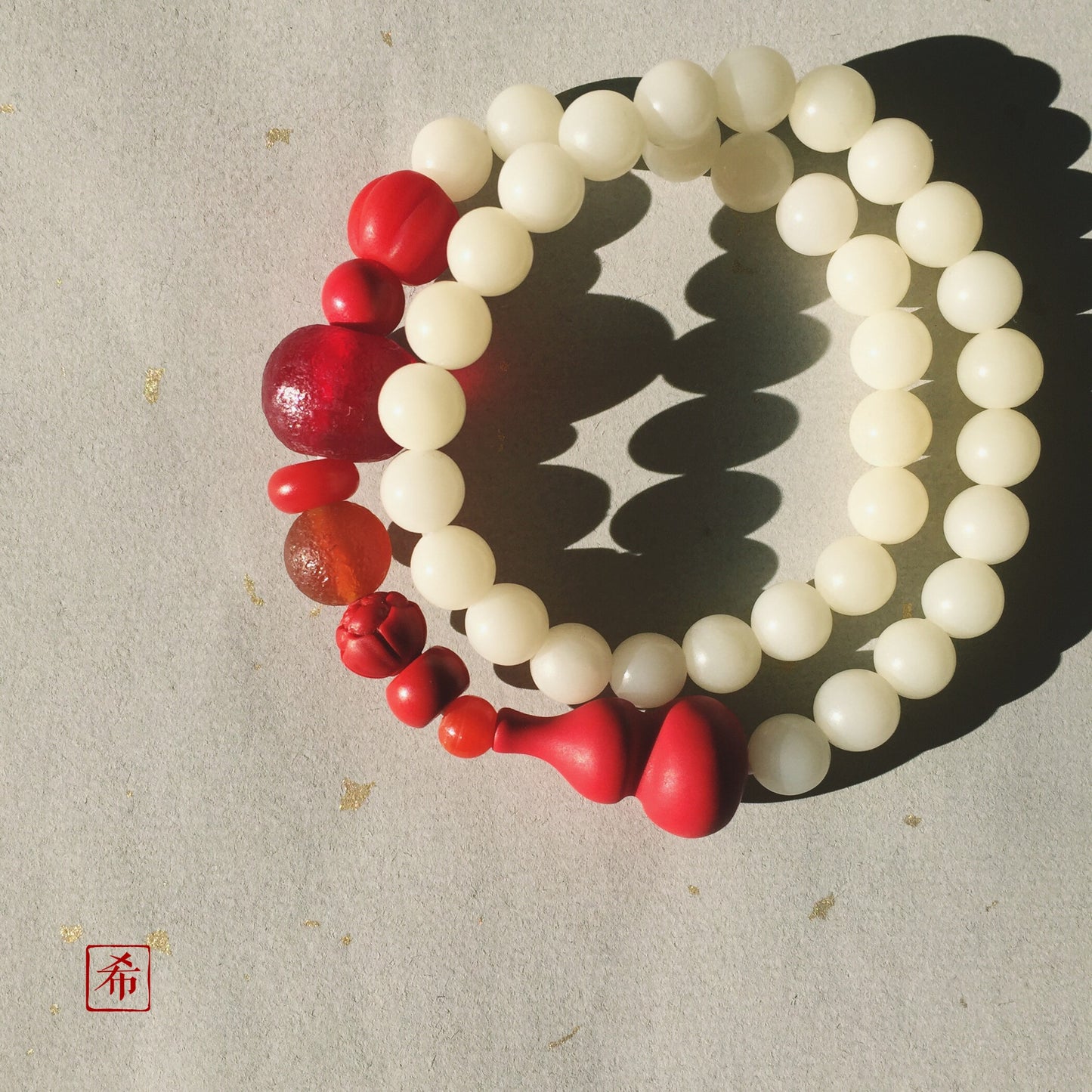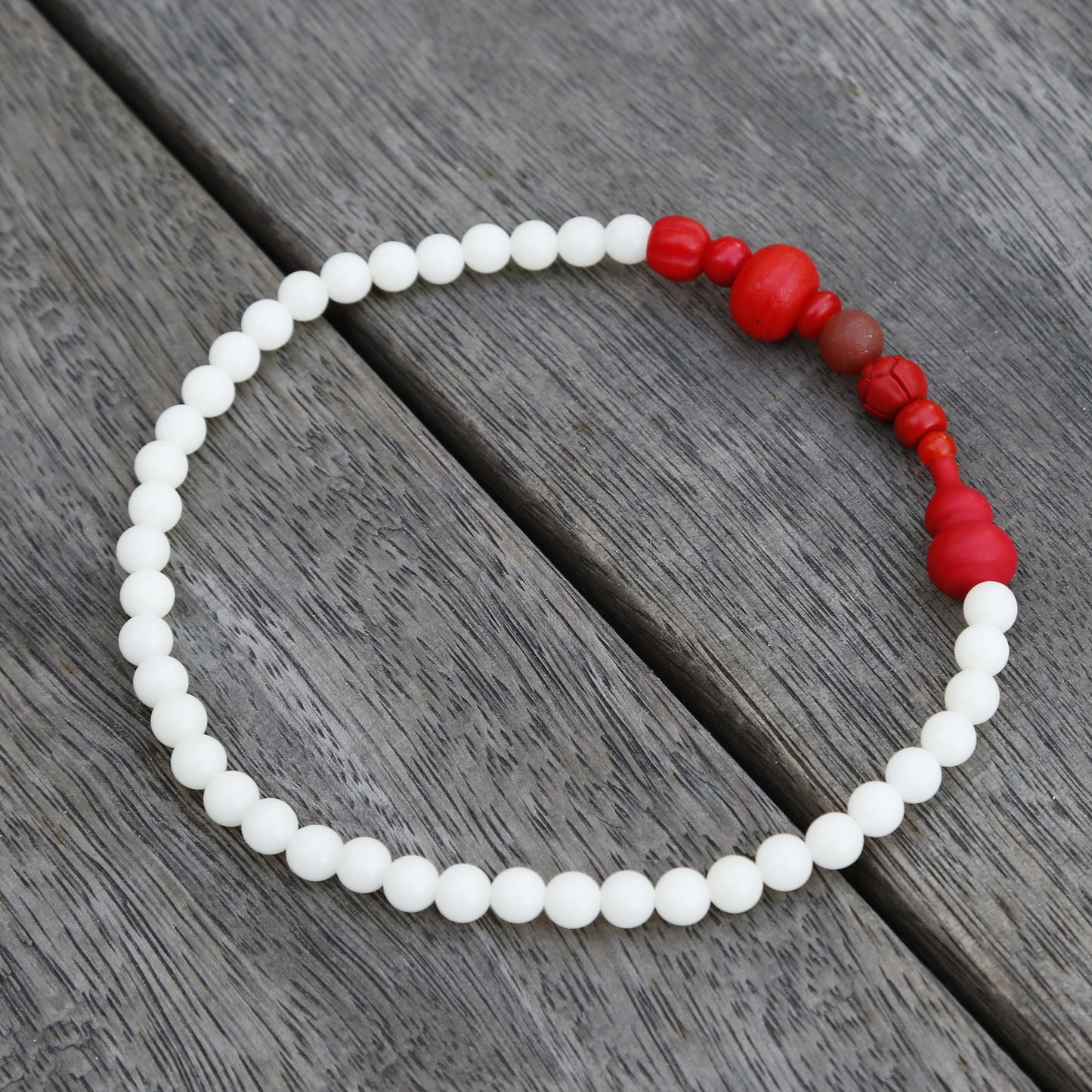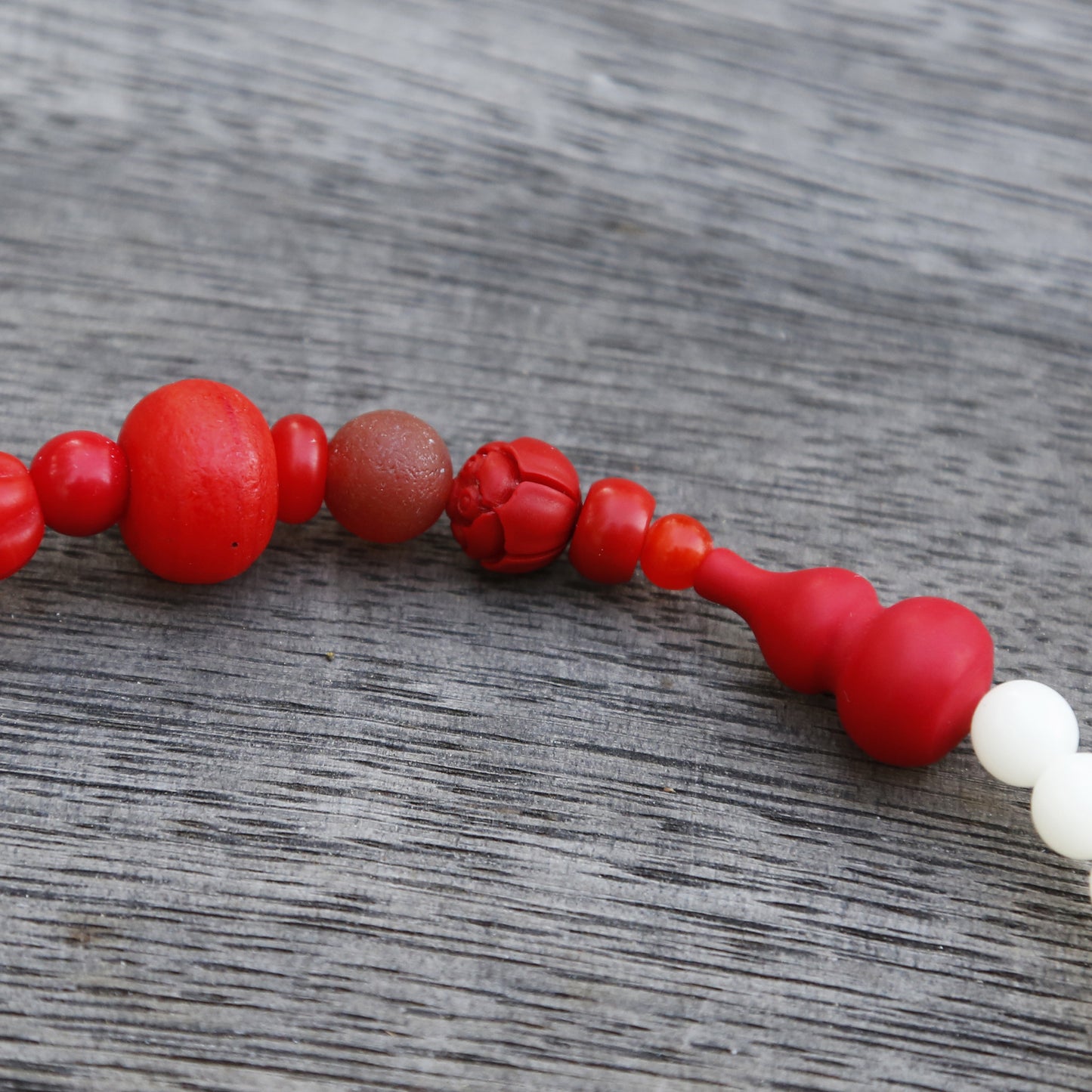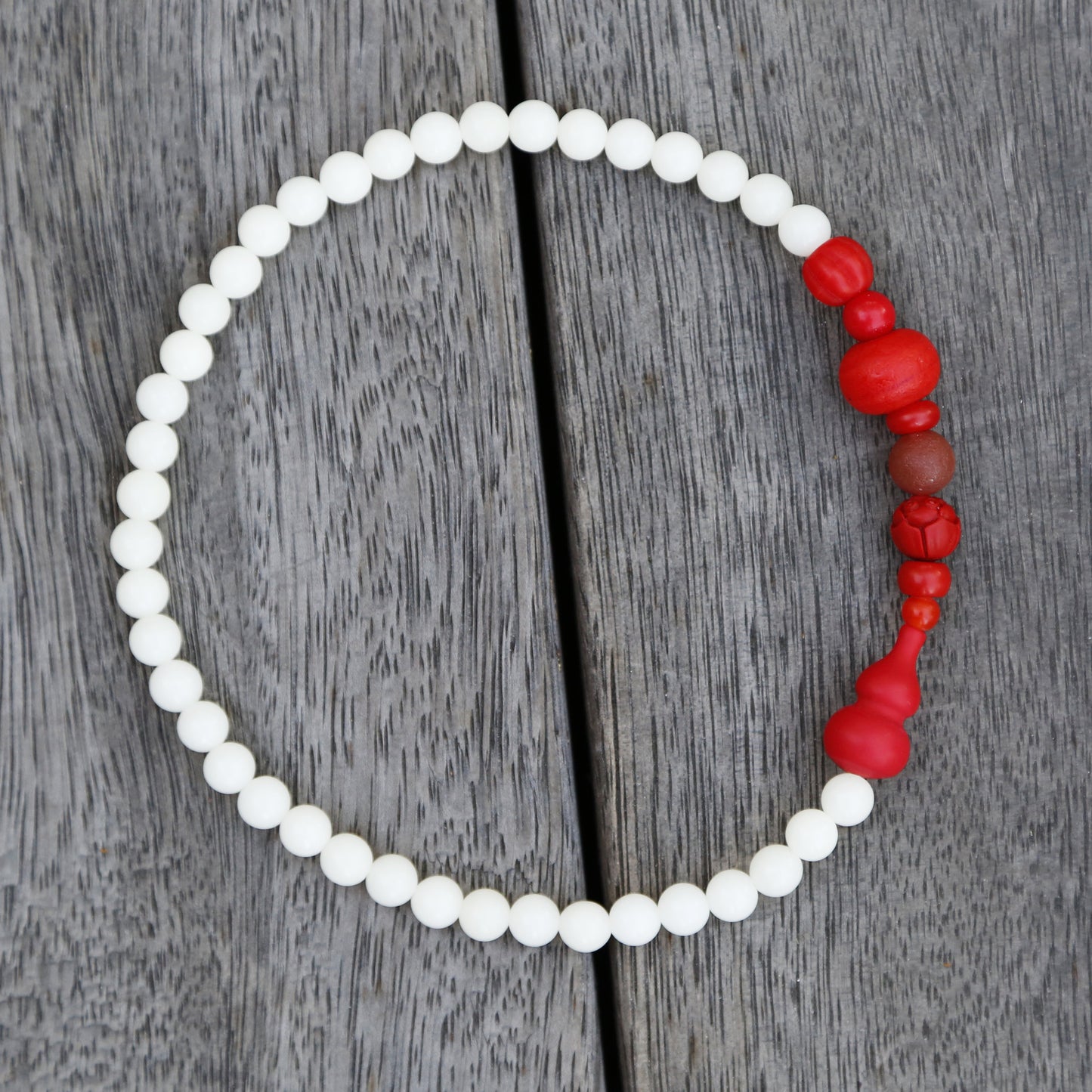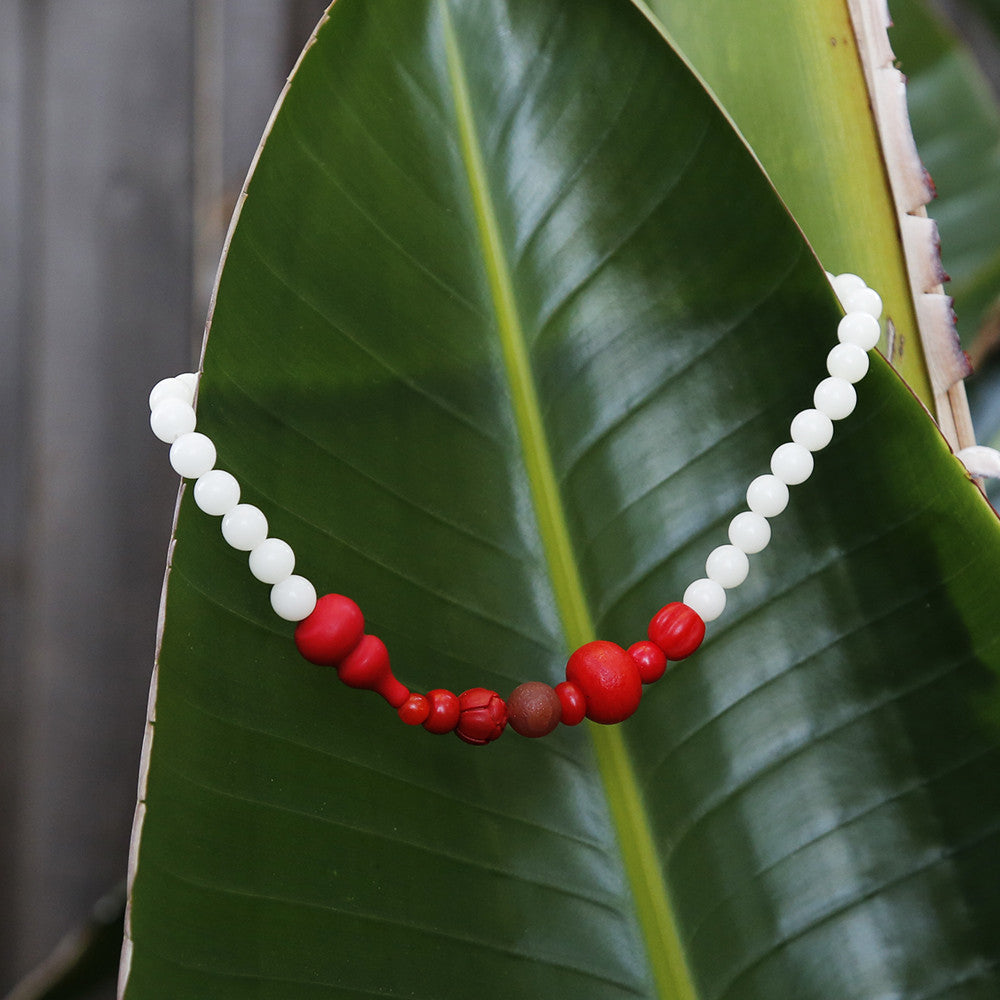 About ZentralDesigns
Established in California in 2016, We strive to design and craft beautiful and meaningful jewelry. That's our way of being "Zensational".