Regular price
$25.00 USD
Sale price
$16.00 USD
Unit price
per
Sale
Sold out
Buddha Red Cinnabar 108 Bead Mala Necklace, 108 Bead Mala Bracelet
Keywords: 108 Mala, Buddha, Red Stone Wrap Bracelet Wrist Mala, Meditation Jewelry, Yoga Jewelry
Please be noted: Our Cinnabar is Non-toxic Grade A Synthetic Resin-based Cinnabar (NOT natural stone), which is jewelry industrial standard and required by law. Because natural cinnabar contains toxic mercury pigment, before it can be used in jewelry, it has to be processed using modern technology to replace the toxic pigment while retaining the bright and vivid "Chinese Red" color.

This is a vibrant "Chinese Red" 108 Bead Mala Necklace, with a Buddha pendant, a craved charm, blue Lapis beads, and some Gold Flakes Beads as a spacer for extra sparking.

The bright red color represents power and energy and adventure. It brings a spark into your life. You can feel this by instantly feeling lifted and energized when looking at this color.

This mala is made with a Grade A lucky red Cinnabar bead. It can be wrapped 3 or 4 times around your wrist comfortably as a bracelet. Or just wear it as a brilliant necklace, the Buddha pendant will make it a focus itself.

Size(s):
Cinnabar beads diameter: 8 mm (1/4 inch)
Lapis Lazuli Beads: 6mm (5/16 inch)
Gold beads diameter: 9 mm (5/16 inch)
Cinnabar Buddha Charm: 14mm (5/8 inch)
Length: approximately 91cm (36 in)

Materials:
Red beads and Charm and Buddha pendant - Cinnabar
Blue beads: Lapis Lazuli
Gold beads - Gold flakes beads
Meaning:
-----Cinnabar - boost energy and maximize your potential
A powerful transformation crystal. Cinnabar assists you with developing intuition; it increases your mental alertness, ingenuity, and creativity. It clears and aligns the blocks that occur in the energy body.
(In the modern jewelry industry, the toxic mercury pigment is replaced by a resin-based polymer that approximates the appearance of the Vermillion color -- Typically known as "Chinese Red")

-----108 Mala - Unique Prayers Beads for Buddhists
In Buddhism, 108 Bead Mala is one of the most important traditional meditation tools. You can hold it while focusing, say prayers or syllables on each bead, or wear it gently to remind you of your positive intentions throughout the day. The 108 Bead Mala has the energy to remind one of the healing principles.

-----Lapis Lazuli (Lapis) - Peaceful and awareness
The Blue Lapis helps to enhance one's awareness, insight and intellect, bringing with it peacefulness, objectivity, and self-acceptance. It also helps to relieve insomnia and let go of anxieties. Buddhist beliefs recommended lapis lazuli as a stone to bring inner peace and freedom from negative thoughts. It is said to enhance intellectual ability, making one a better learner and teacher. It can also be a catalyst for a mystical journey to higher awareness.

Share
View full details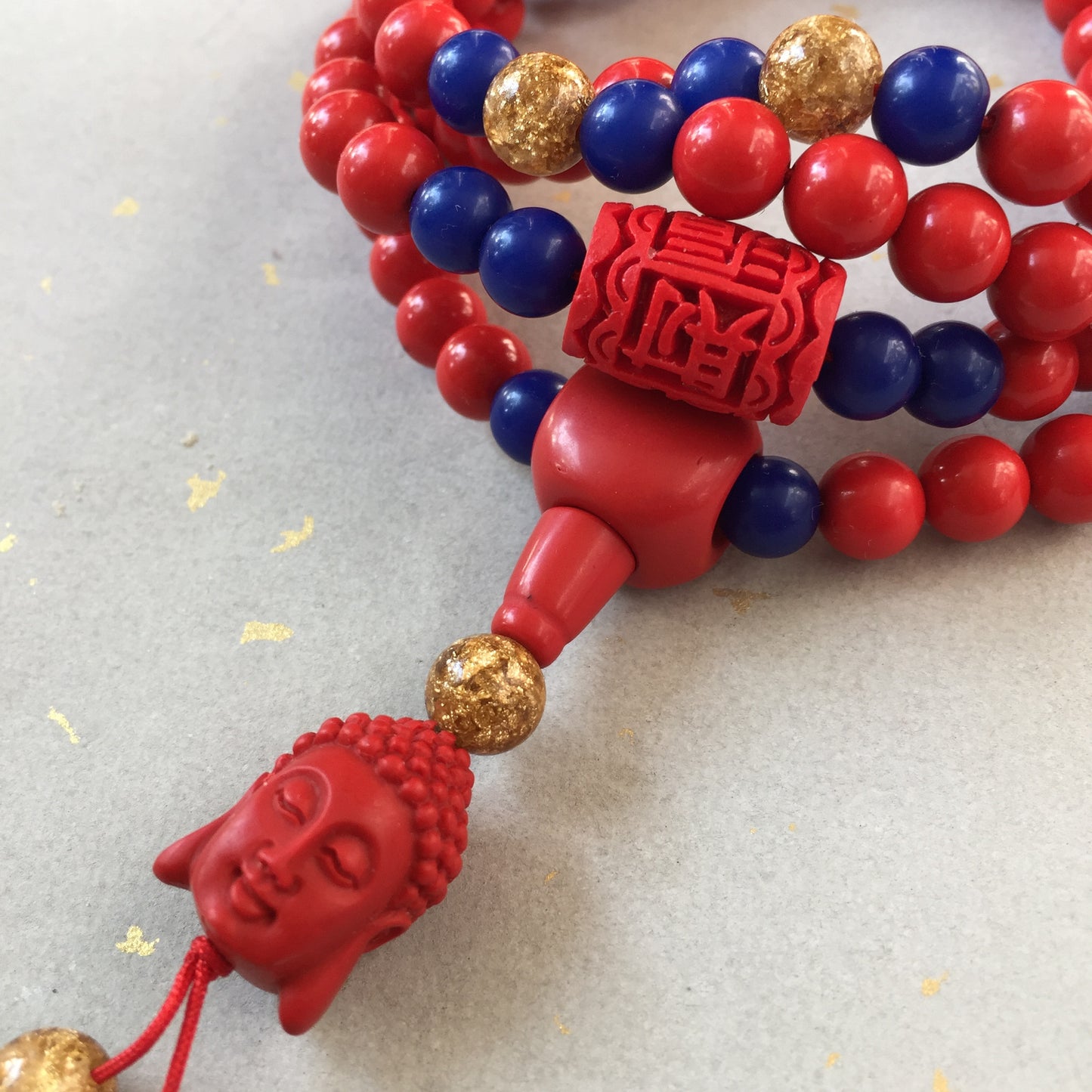 About ZentralDesigns
Established in California in 2016, We strive to design and craft beautiful and meaningful jewelry. That's our way of being "Zensational".